Profile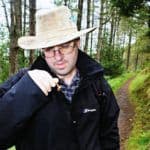 Brian Douglas
My CV
Education

School/Sixth Form: Gowerton Comprehensive School, Swansea, Wales.

Undergraduate Degree: BSc. Environmental Science at Aberystwyth University, Wales.

Graduate Degree: PhD in Fungal Ecology and Systematics at Aberystwyth University, Wales.

Qualifications

I left school with a mismash of A Levels, since the subjects I enjoyed most were English, Art, and Chemistry. Not really a good combination for a career – I'd recommend anyone reading this to be a little bit more focused! But also try to do what you love.

I did a BSc. in Environmental Science at Aberystwyth University mainly because I wanted a science-based job which involved some outdoor working. This degree was really an eye-opener for me, covering a vast range of different topics from geology and geochemistry, to ecology and plant biology and microbiology, to environmental issues and law. One big advantage of the course structure was that you could select your own pathway through the many options, following your interests or targets for future jobs.

Out of all of these topics I found microbiology, plant biology, and geochemistry absolutely fascinating. So I did my BSc. dissertation on the fungi that are found in plant roots on heavy metal contaminated mine sites.

I then carried this topic into a PhD, researching the identity of the fungi present in grass plant roots using culturing and DNA based identification. A large part of this work was surveying for the suspected sexual states of these root-colonising fungi and their relatives, so that I could compare their DNA and names to what was turning up in grass roots.

This was where I started to realise that there was an enormous but microscopic world of mysteries out there, which need people with lab skills as well as field mycological skills, to work out what fungi are doing what and where in different plants and habitats around the world.

Work History

Before university I worked as a merchandiser at TESCO, rearranging products on the shop floor.

After university I did a few months of post-doc work at Aberystwyth University, looking at the effects of heat and drought on the fungi that occur in silage ("pickled" grass that is fed to animals such as cows in the winter).

After that I coordinated a five year volunteer-based fungal conservation project at Kew – the Lost and Found Fungi project. As part of this project I spent a lot of time traveling around the UK, meeting regional fungus recording groups, and trying to find rare species while simultaneously trying to improve the skills and knowledge of our volunteers.

The Lost and Found Fungi project finished just after the first lockdown, and I spent a year working for a biotech startup (Bento Bioworks), who aim to make DNA analysis work affordable and available to everyone at home.

And after that I managed to end up in Kew again!

Current Job

Coordinator for the Darwin Tree of Life project work at Kew, working on fungi and plants.

Employer

The Royal Botanic Gardens, Kew.
Brian Douglas is a member of:
About Me:

I'm a mycologist, with half of my knowledge and skill set in field mycology, and the other half in molecular lab skills.

My Work:

Darwin Tree of Life Coordinator at Kew (Plants and Fungi)

Read more

I've recently started my current job as a coordinator for the Darwin Tree of Life project work at Kew, helping the collecting work for fungi and plants so that these specimens can be genome sequenced.

Kew already had good systems in place for collecting fungi and plants before I started, so my job is to help support the current systems, help coordinate between different collectors and stakeholders, and to suggest and implement improvements where I can.

Apart from that, I'm also excited about any hands-on roles which will benefit from my interest in micro-fungi (anything that's smaller than a few mm). I'm hoping that we can make some important collections from some interesting and unusual places – for example, there are some target yeast families that could be found in flower nectar, sour dough, or in fermented grass!
My Interview

How would you describe yourself in 3 words?

Professional stick-looker

What or who inspired you to follow your career?

My PhD supervisor at Aberystwyth University, Wales.

What was your favourite subject at school?

English and Chemistry and Art

What did you want to be after you left school?

I wasn't sure directly after leaving school - I was split between wanting to be an author or a scientist.

If you weren't doing this job, what would you choose instead?

Some kind of ecology job.

Who is your favourite singer or band?

It varies - I prefer discovering new bands and music rather than listen to the same bands over and over again.

What is the most fun thing you've done?

Finding and characterising undescribed species of fungi. it's like treasure-hunting for unexplored biodiversity.

My profile link:
https://ias.im/u.294412
---
---
---