Profile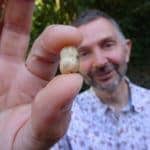 Max Coleman
My CV
Education

School education in London,
BSc degree in Botany from Bristol University,
Msc degree in Landscape Ecology from Wye College (Kent),
MSc degree in Taxonomy and Evolution of Plants from University of Edinburgh,
PhD in plant evolutionary biology from University of St Andrews.

Qualifications

A Levels got me a place at university to study botany,
my first degree got me a place on a Masters course,
my first Masters led to work in the nature conservation sector,
my second Masters led to a PhD,
my PhD was needed to be able to apply for the job I now do.

Work History

– Botanical surveyor for the Countryside Survey
– Conservation Officer for English Nature
– Plant Records Officer for the Euro+Med database
– Checkout staff for Sainsbury's supermarket
– Community Tree Officer for City of Edinburgh Council

Current Job

Science Communicator for the Royal Botanic Garden Edinburgh.

Employer

The Royal Botanic Garden Edinburgh holds one of the richest plant collections on Earth and is a centre of excellence in the scientific study and conservation of plant diversity. It's a leading Scottish visitor attraction, interpreting the world of plants to about one million visitors across four gardens in Scotland to build an appreciation of the vital role plants have in any sustainable future.
Max Coleman is a member of:
About Me:

I am a botanist (name for a scientist who studies plants) who has moved into working on public engagement and communication.

Read more

I live in Edinburgh and enjoy walking and cycling around the City and surrounding countryside. Plants have been a fascination for as long as I can remember, probably because I got out into nature a lot as a child. I count myself very fortunate for this early contact with the natural world. I put my plant knowledge to practical use by foraging for wild edible plants. A particular favourite is the few-flowered leek. The bright green leaves make a super pasta sauce with a garlic kick, so not for everyone!

My Work:

I work at the Royal Botanic Garden Edinburgh and try to make the world of plants and fungi inspiring and engaging for everyone, even those who think they don't care.

Read more

Inspiring and engaging people often relies on storytelling techniques. Facts and figures can be really dull and boring. I try to make plants and fungi relevant and relatable to people by showing how useful and important these organisms, that appear not to move and get easily overlooked, really are for our lives and even our survival. Of course plants and fungi do move, just really slowly. Although, if you have seen a Venus flytrap at work you will know that some plants can move at lightening speed.

How you communicate anything to people is really only limited by your own imagination, so I have used lots of different mediums of communication over the years. I think the newest and most exciting medium that I have used so far is a computer game about tree health. The player has the job of a forester who is trying to keep forests healthy, benefit forest wildlife and turn a profit. Not an easy challenge when so many new tree pests and diseases are arriving in the UK by accident due to global trade and the movement of people.
My Interview

How would you describe yourself in 3 words?

bike-mad botany geek

What or who inspired you to follow your career?

David Attenborough

What was your favourite subject at school?

Geography

What did you want to be after you left school?

A botanist

Were you ever in trouble at school?

No

If you weren't doing this job, what would you choose instead?

Bike mechanic

Who is your favourite singer or band?

The Ukulele Orchestra of Great Britain

What's your favourite food?

Curry

What is the most fun thing you've done?

An expedition to a remote tropical island

If you had 3 wishes for yourself what would they be? - be honest!

Health, happiness and a bike frame built from Reynolds 653 tubing

Tell us a joke.

A man knocked on the doot of the Kremlin and said "is Len in?"

My profile link:
https://ias.im/u.281345
---
---
---
---