Profile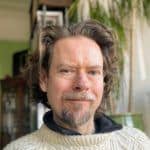 Neil Bell
About Me:

Hello, I'm a bryologist – that's someone who studies mosses and liverworts! I work at the Royal Botanic Garden in Edinburgh.

Read more

I live in in a top floor flat in Edinburgh with several bicycles. I like walking in the mountains in the north and west of Scotland where some of the most interesting mosses and liverworts are found. I'm a keen road cyclist and have also been known to charge around on rollerblades!

As well as mosses and liverworts I'm interested in all sorts of other wildlife such as (bigger) plants, insects and birds, although I know much less about these… At any particular time I'm also interested many other things – right now I'm reading about early medieval Scottish history and learning to throw a frisbee again with my girlfriend (she lives in Fife with a large cat called Tiger). During lockdown I've been very conventional, learning to bake bread and growing my hair!

My Work:

I study mosses and liverworts – those tiny green plants you see growing on tops of walls, on trees and in many other places. I'm interested in how all the different types of mosses and liverworts have evolved.
My profile link:
https://ias.im/u.283217
---
---
---
---