Profile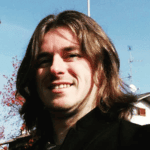 Peter Bickerton
My CV
Education

Read Primary School,
Clitheroe Royal Grammar School,
University of Manchester,
Marine Biological Association.

Qualifications

GCSE: 9A* & 1A –
A level (A in Biology, A in Maths, A in Chemistry); AS level A in French –
1st Class Degree in Plant Science (Uni of Manchester) –
PhD in Plant Sciences (Uni of Manchester, MBA in Plymouth).

Work History

– Football Referee
– Education Welfare Assistant
– CD factory worker
– Barman
– PhD student
– University Lecturer
– Public Engagement Officer
– Head of Plant Science (making Plant Cubes in Germany)

Current Job

Scientific Communications & Outreach Manager

Employer

Earlham Institute
Peter Bickerton is a member of:
About Me:

I am a poet and a scientist: I love the natural world, art, music and history, and I use words to express that in engaging and compelling ways. I also play the piano, the ukulele, juggle, love to support Blackburn Rovers FC, and enjoy cooking delicious food!

Read more

I live in the centre Norwich, a UNESCO World City of Literature – which is handy for a poet! From my flat I can see the huge spire of Norwich cathedral and on Saturdays, when Carrow Road is full, I enjoy hearing the crowd roar as Norwich City score.

I'm from Blackburn, a town in Lancashire, home to the greatest football team on Earth and surrounded by some of the most stunning and beautiful countryside on Earth – from Waddington Fell and the Trough of Bowland to the Ribble Valley and the Pennines. Growing up in this beautiful area gave me a lifelong love of nature and a passion for learning more about it.

I did a PhD in Plant Sciences at the University of Manchester and the Marine Biological Association in Plymouth, and now I write articles and design public engagement activities for the Earlham Institute. I'm also the Resident Poet for Thought for Food!

My Work:

I write stories about the wonderful science that goes on at the Earlham Institute.

Read more

I tell the stories of research at Earlham Institute to lots of different people: other scientists, students, members of the public, farmers, even the government!

Sometimes you will find me dressed as a giant bee or a pink pigeon at the Norwich Science Festival…

I am really lucky to be able to get to know the scientists working on the Darwin Tree of Life project, and work with them to help others understand how important that work is – for the good of the environment and our own health and wellbeing.

I'm currently solving this problem:

I'm currently helping one of our teams, who have some pretty snazzy kit, to find other researchers who might want to use it to help their science. It involves several things: making a new web page, writing articles and producing social media content such as videos to help advertise the team. It's very fun, as we have a clear aim – get people asking us questions!

We also have some really fun public engagement planned for this summer. We're going to the Royal Society Summer Science Showcase, but because of COVID-19 we have to make all our resources available online. That means we're making an online game and a documentary all about bees and what flowers they like. It's all very new, so quite a challenge.

We're also about to start a pretty amazing project called "Biodiversity on the Norfolk Broads". That's all about the Darwin Tree of Life Project. We're going to be working with schools and nature groups to sample wildlife and actually do the science – getting the DNA information from all the species we find – and using that to help us complete the real life project!
My Interview

How has your work progressed recently?

Better than expected!

How would you describe yourself in 3 words?

Poetry-writing scientist and communicator

What or who inspired you to follow your career?

Carnivorous plants

What was your favourite subject at school?

Biology and history

What did you want to be after you left school?

I had absolutely no idea

Were you ever in trouble at school?

Sometimes

If you weren't doing this job, what would you choose instead?

Making wine

Who is your favourite singer or band?

Oasis

What's your favourite food?

Lamb

What is the most fun thing you've done?

I canoed down a river in the Amazon rainforest

If you had 3 wishes for yourself what would they be? - be honest!

Feeling less guilty about everything, the ability to fly, 4 day weekends

Tell us a joke.

There are two muffins in an oven. One says to the other, "blimey! It's hot in here!" The other screams, "AAAAAARRRGHHH! A TALKING MUFFIN!"

My profile link:
https://ias.im/u.281346
---
---
---