Profile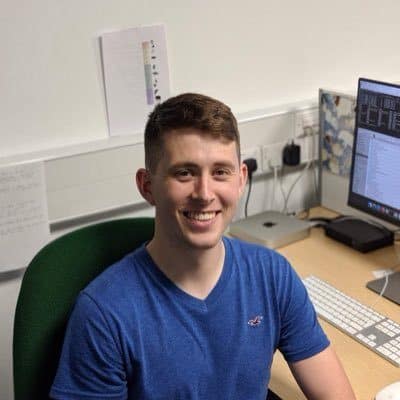 Peter Mulhair
My CV
Education

Abbey Christian Brothers School in Tipperary, Ireland. Dublin City University for my undergraduate degree. Split between Leeds University and Nottingham University for my PhD.

Qualifications

Irish Leaving certificate – English, Irish, Maths, Biology, Chemistry, Art, French.
BSc in Genetics an Cell Biology.
PhD in Bioinformatics and Molecular Evolution.

Work History

Worked in pubs throughout University. University placement in a pathology lab. Currently working as a postdoctoral researcher.

Current Job

Employer
Peter Mulhair is a member of:
About Me:

I am an evolutionary biologist at the University of Oxford. I use computational tools to look at animal genomes and try to understand how they have evolved.

Read more

I grew up in Ireland, which is where I carried out my Bachelor of Science in Genetics and Cell Biology. I moved to the UK to do my PhD in University of Nottingham. My current research as part of the Darwin Tree of Life project involves analyzing the genes and genomes of animals to detect changes that may have led to the incredible diversity we see in animals today. I have a keen interest in insects in particular, and I also love seeking out these bugs outside in the wild! I also love hiking, running, and watching sports of all kind. I'm currently living in Nottingham with my partner who is also a scientist, but I hope to move down to Oxford soon. My pronouns are he/him.

My Work:

I look at genomes to understand how animals have evolved

Read more

I am a bioinformatician, which means I mix computer science with biology. When a genome of a species is sequenced, the code of its DNA is stored in computers like any other file you find on a computer. I then use a wide variety of tools to look at and analyze the DNA code to try and find patterns that may give insights into how the genome and species has evolved. In particular I'm interested in the protein coding genes found within the genomes, as these are the markers that combine to produce the proteins that make and organism what it is.

I'm currently solving this problem:

I'm currently analyzing a specific set of genes call homeobox genes. These genes produce proteins that are essential in most animals to tell the cells where to go when an embryo is developing. For example in humans they say where your arms and legs should go, so they are very important to make sure everything in the organism is working correctly and in its correct place. These genes are interesting from an evolutionary perspective as changes within them might give us clues as to how new phenotypes emerge, for example how wings in insects came to be.

I'm currently working on these species doing this:

I'm currently looking at species in the group called Arthropoda. This includes many insects species such as bees, beetles, flies, butterflies and moths. These are an incredibly diverse group of animals, and display and huge range of different body types and life history traits.
My Interview

How has your work progressed recently?

Very well, lots of genomes for the species we have sampled are now complete and ready to be analyzed!

What have you got planned for your research over the next year?

With more and more genome data coming in we plan to look at a wider range of species to understand how certain genes have evolved

What or who inspired you to follow your career?

Many great teachers throughout my time in school

What was your favourite subject at school?

Biology

What did you want to be after you left school?

I had no clue!

Were you ever in trouble at school?

Definitely, but I also worked hard.

If you weren't doing this job, what would you choose instead?

I would love to get more involved in conservation.

Who is your favourite singer or band?

The greatest guitarist of all time, Rory Gallagher

What's your favourite food?

Any sort of Mexican dish

My profile link:
https://ias.im/u.285379
---
---
---